County third team report
Norfolk County badminton third team traveled down to the Catmose Leisure Centre in Oakham, for the opening day of the Inter County Championships. The first opposition we faced was Suffolk 2. Norfolk got off to a slow start with U17 James Salter, Robbie Hobson and George Vickers all losing their men's singles, however Katie Witting on her return from the RAF won her singles convincingly while U15 Amy Hayhoe making her debut won hers in a nail biting 3 rubbers. Adam Simmons and Conner Taylor play well in their first game but where denied a win when they were unable to kick up and gear and lost the second end, Hobson and Vickers fared better taking theirs to 3 (21-18, 15-21, 21-19). The girls fared slightly better as Witting and Rebecca Leers won in 2 but Lauren Mortimer and Hayhoe lost their rubber in 2. Then to the mixed, first up was Taylor and Leers fighting hard but losing in 3 ( 17-21, 21-11, 21-14) and Simmons and Mortimer losing their game in 2. Norfolk lost the match 4-7.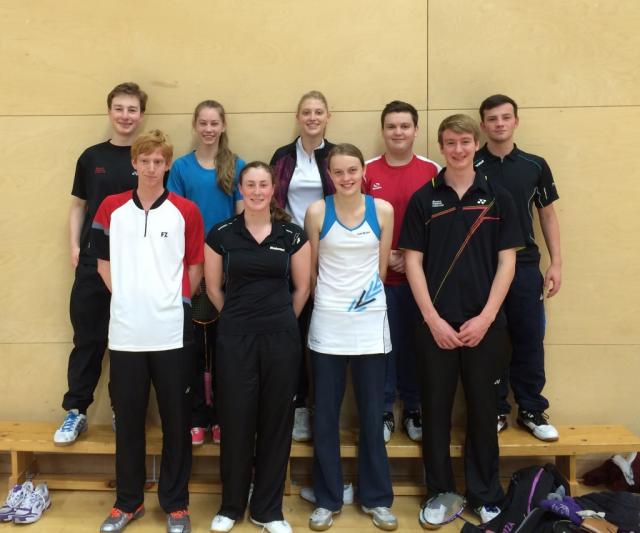 After a short break and court change Norfolk next faced Lincolnshire 2, Salter got Norfolk off to a good start winning a breath taking 3 rubbers( 14-21, 21-17, 19-21) but Hobson and Vickers couldn't back his win up both losing in 2, but once again both girls won their singles, Witting in 3 (21-11, 12-21, 12-21) and Hayhoe in 2. In the doubles both men pairs and Mortimer and Hayhoe lost in two ends however Witting and Leers were unlucky losing in 3 (21-18, 16-21, 22-20). The mixed saw Taylor and Leers losing in 3 (21-10, 15-21, 21-13) and Simmons and Mortimer losing theirs in 2. Norfolk lost 3-8.