Hethersett Badminton Club achieves Premier Status
Hethersett Badminton Club are proud to announce that it has been awarded "Premier" (Clubmark) Club status. After several months of work and consultation Badminton England confirmed that the various criteria had been achieved. Massive thanks must go to Peter Hoult (Chairman) for driving the application forward who was well supported by the HBC team of volunteers and coaches.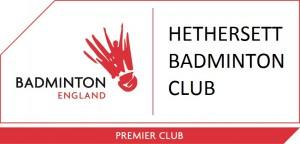 What is Clubmark and Premier Club?
ClubMark is an accreditation that shows a club provides the right environment which ensures the welfare of members and encourages everyone to enjoy sport and stay involved throughout their lives.
An accredited club is recognised as a safe, rewarding and fulfilling place for participants of all ages as well as helping parents and carers know that they're choosing the right club for their young people.
Premier Club is Badminton England's Clubmark standard.
The ethos and principles of Clubmark should automatically apply to all levels of our accredited clubs involved with young people.
Hethersett Badminton Club provides Junior coaching on Thursday evenings from 6.30pm – 7.30pm (Hethersett Academy) and 7.45pm – 9.00pm (Hethersett Old Hall School) check out our website for further details.
For more information about Clubmarked clubs, please see the information provided by Badminton England